Bobcat
Basketball
2002-2003
Bobcat Home Page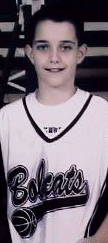 John Wilson
Manchester Enterprise - Thursday, December 19, 2002 - Page C1
---
Burning Springs 64, Goose Rock 58

John Wilson scored a career high 24 points, 17 coming in the second half, as the Bobcats picked up a hard fought win at Goose Rock. Wilson made 9 of 11 foul shots in the games final eight minutes after the teams two leading scorers (Josh Messer and Kenny Wolfe) had fouled out.

Messer and Wolfe finished with 17 and 11 points, respectively. Jon-Ross Barrett scored eight points; Zac Kemp and Daniel Sumner added two each. Eric Smith led the Rockets with 19 points; Matt Mitchell had 18; Noah Reid and Brandon "Bubba" Smith each tossed in eight; Nathan Fields had five and Brian Adams, two points.


Burning Springs 48, Oneida 15
Kenny Wolfe poured in 19 points to lead the Bobcats over the Cougars. Josh Messer added nine points nd Daniel Sumner had seven; Tyler Thompson scored four points; Robert Gay chipped in with three points; Jon-Ross Barrett and Coty Abner each scored two; Jarrod Hooker and Tyler Messer each had one point. Chris Frazier, Nicholas Morgan and Michael Davidson scored three points each for the Cougars; Joseph Bishop, Dustin Davidson and Kody Reed had two points each.