Bobcat
Basketball
2002-2003
Bobcat Home Page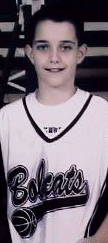 John Wilson
Manchester Enterprise - Thursday, December 5, 2002 - Page C1
---
Bears upend Bobcats 45-38

Forward Justin Henson scored 12 points in the opening period as host Paces Creek jumped to an early 17-9 lead over Burning Springs last Tuesday. The Bears extended their lead to 27-13 at halftime before the Bobcats came roaring back in the third period.

Guard John Wilson scored 10 of his team-high 16 points in the third quarter as the visitors closed to within 33-28. However; the Bears out scored the Bobcats 12-10 in the final quarter and posted a 45-38 victory. Henson finished with 22 points to lead the Bears. The improving Ben Jackson scored 12 points and grabbed nine rebounds; Josh England added seven points and Chad Grubb had four.

Josh Messer and Kenny Wolfe scored nine points each for the Bobcats; Zac Kemp and Jon-Ross Barrett each scored two points.