Bobcat
Basketball
2002-2003
Bobcat Home Page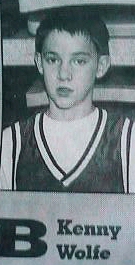 Manchester Enterprise - Thursday, January 16, 2002 - Page C1
---
Laurel Creek 48, Burning Springs 43

Laurel Creek rallied from a 21-16 halftime deficit to down the visiting Bobcats Friday. Brandon Griffin led the Jags with 18 points nd Derek Couch added 10. Derek Emery scored nine for the winners; Clinton Sizemore had six and Josh Foster added five. Bobcat guard Kenny Wolfe led all scorers with 26; John Wilson tossed in 10 points; Robert Gay had three; Jarrod Hooker and Zac Kemp each scored two points.


Manchester 62, Burning Springs 26
Shawn Barrett and Matt Jackson each scored 16 points to lead No. 1 Manchester to win over the Bobcats at CCHS gym. Josh Jarvis added eight points for the Tigers who improved to 12-1. Ethan Nolan and Chris Gilbert tossed in four points apiece; Michael Bowling and Beachel Collett each had three points; Brandon McGeorge, Dewey Henson, Zach McGeorge and Spencer Hubbard scored two points each. Kenny Wolfe led the Bobcats (5-7) with 14 points; John Wilson added five, Tyler Thompson scored three; Jarrod Hooker and Jon-Ross Barrett had two each.