Bobcat
Basketball
2002-2003
Bobcat Home Page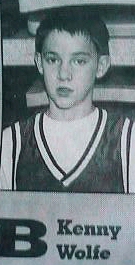 Manchester Enterprise - Thursday, January 16, 2002 - Page C1
---
Grade School Tournament
Hacker 64, Burning Springs 40


The third seeded Wildcats (9-3) jumped to a 7-0 lead and never looked back in downing the sixth-seeded Bobcats 64-40. Hacker, who had four players score in double figures, were led by point guard Todd McDaniel's 20 points and five assists. Corey Nicholson added 15 points, 14 rebounds and four blocked shots for the winners. Jeremy Garrison and Charles Parker (12 rebounds) each scored 10 points; Deron Maxie added three; Matthew Watkins (seven assists), Johathan Smallwood and Chuckie Hubbard had two points each.

Kenny Wolfe led the Bobcats with 18; Josh Messer scored 10; John Wilson added eight; Tyler Messer had two; Jarred Hooker and Tyler Thompson each scored one.