Clay County
Junior League
Baseball
All Stars 2002
Home Page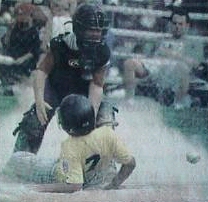 Clay's Delbert Collins slides
in safely during the game
with Paintsville.

Reprinted from the Manchester Enterprise
---
Clay routs Paintsville

After losing a heart breaker in extra innings to Campbellsvile in their opener, Clay took no prisoners in their impressive 15-3 win over Paintsville on Sunday at the Kentucky State Baseball Championships.

In the first inning Tyler Young led off with a walk but John Wilson fouled out to the catcher for the first out. Young was then thrown out attempting to steal just before Todd McDaniel tripled down the right field line. Brandon Griffin and Josh England walked to load the bases but Alex Hensley grounded to first to end the threat. In the Paintsville first, lead off batter Caleb Sloan bunted the ball in front of the plate, but catcher John Wilson came out quickly from behind the plate to field and throw to Hensley for the out. The next batter fouled out to Hensley. Jeremy Stacy singled but Nick Vance grounded to third baseman England who threw on to Young for the force out.

Clay scored nine runs in the second inning as Paintsville starter Seth Rice had trouble finding the strike zone. Rice walked four batters and hit four. The big hits in the inning came off the bats of England and Zack McGeorge, each knocking in two runs with singles. Wilson also added a single in the inning.

Clay added two more runs in the top of the third before Paintsville scored three in the bottom of the inning, on three hits. Clay added a single run in the fifth and three more in the sixth to round out the scoring. McDaniel picked up the win, allowing seven hits with two strikeouts and no walks.