Clay County
Junior League
Baseball
All Stars 2002
Home Page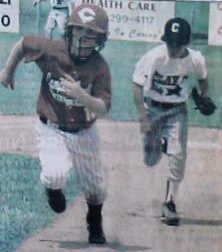 Clay County second baseman
Tyler Young chases
Champbellsville's Dallas
Gribbons in a rundown. The
tag was made for an out to
complete a double play in the
fifth inning. Clay lost the
game 6-5 in extra innings.

Reprinted from the Manchester Enterprise
---
Clay loses to Campbellsville
in extra innings

Clay County's 9-10 year old all stars fell to Campbellsville, 6-5, in extra innings in the opening game of the Kentucky State Championships at Lykins Park in Winchester. Trailing 4-1 after four innings, Clay rallied to tie the game on Brandon Griffin's bases loaded double to right field.

Campbellsville regained the lead in the bottom of the fifth when with one out and runners on the corners, Dallas Gribbons singled to left field. Clay was able to throw out a runner at third then get Gribbons out in a run-down between first and second for a double play, but not before Becca Cook had scored the go ahead run from third.

Clay rallied in the top of the final inning when Zack McGeorge single with one out and went to third after two wild pitches. Delbert Collins walked just before Tyler Young singled through the left side of the infield. McGeorge scored the tying run with Collins advancing to second. John Wilson followed with a walk to load the bases. Todd McDaniel grounded out to the first baseman who fielded and threw to home plate to force Collins for the second out of the inning. Brandon Griffin struck out to end the inning.

Griffin retired Campbellsville 1-2-3 in the bottom of the sixth, his last eligible inning, to send the game into extra innings. Clay didn't tally in the seventh, leaving Kendal Turner, who reached with a one out walk, stranded at second base. Todd McDaniel entered the game to pitch the Clay seventh and gave up a lead off single to Drake Smith. He went to third after two passed balls and later scored on a hit by Becca Cook.