CCHS
Track
2003
Home Page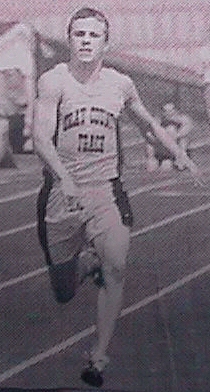 Adam Reid along with Drew Couch, Phillip Thompson and Cameron Rice won the 4x400 Relay in the SEKC championship.


Manchester Enterprise - Thursday, May 15, 2003 - Page A6
---
Clay athletes fare well in SEKC track meet
The Clay County Tiger 4x400 meter relay team made up of seniors Adam Reid and Drew Couch along with freshman Phillip Thompson and seventh grader Cameron Rice were upset winners of the 4x400 meter relay at the Southeastern Kentucky Conference Track Meet Saturday. "It was a big thrill to see those guys take the mile relay," said coach Denver Word. Thompson also placed second in the 300 intermediate hurdles and fifth in the triple jump. Reid rand fifth in the 400 meter dash. The Tigers (Couch, Robbie Tomlin, Dwight Scalf and John Wilson) were fifth in the 4x100 relay and third (Couch, Thompson, Rice and Tomlin) in the 4x200 meter relay. The boys finished in seventh place.
Girls placed fourth in the SEKC
Kayla Swafford ran fourth in the 800 meter run; Brittany Collins was fifth in the 1600 meter run and third in the 3200 meter run; Katie Smallwood ran third in the 100 meter hurdles and sixth in the 300 meter hurdles; she also was fourth in the high jump. Jenna Wilson was second in the triple jump with a new school record of 31'10"; the freshman also finished second in the long jump; Beth Sester was sixth in the long jump.

Kathy Mathis won the shot put and placed second in the discus throw. Erin Collins earned fourth place in the discus throw and Krystal Hubbard placed sixth in the shot put. The Clay girls (Tara Wright, Kayla Swafford, Susan Henson and Jenna Wilson) were second in the 4x400 meter relay; second (Swafford, Henson, Keisha Mathis and Brittany Collins) in the 4x800 and fourth (Swafford, Sester, Wright and Henson) in the 4x200 meter relay.

The SEKC Track meet was held at Cumberland College in Williamsburg.