Lady Tiger
Basketball
2003-2004
Lady Tiger Home Page
Photo Album
Previous Week
Next Week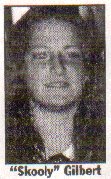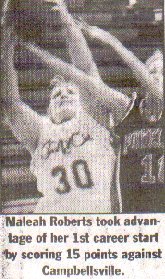 Manchester Enterprise - Thursday, January 1, 2004
---
Gilbert & Roberts selected All-tourney
Clay whips Campbellsville in consolation game
Clay County (7-3) took third place in the Coca Cola Krystal Holiday Tournament at Campbellsville High School Monday after downing the host team 64-23.

Sophomore Jayme "Skooly" Gilbert led Clay's effort over Campbellsville. with 15 points, 12 steals, nine rebounds and eight assists. She also blocked three shots. Freshman forward/center Maleah Roberts, who got her first career start against the Lady Eagles (1-7), shared scoring honors with 15 points and also grabbed four rebounds. Roberts replaced freshman guard Page Jackson as a starter giving Clay a bigger starting lineup. For their effort, Gilbert and Roberts were named to the all-tournament team.

Junior Kari Ealy scored eight points; Amanda House a and Gemma Gray added five apiece; Holly Hoskins four; Stephanie Jackson and Sarah Burchell three each; Page Jackson, Kelly Jones and Mariah Aubrey each scored two points. Hoskins added five rebounds; Jones and House added four apiece.


Whitley County 42 Lady Tigers 39
The Lady Colonels (5-3) outscored the Lady Tigers 18-4 to take a 41-35 lead with 30 seconds remaining and held on for the mild upset. Clay County (6-3) had ended the third period with an 11-2 run to lead 31-23 going into the final period. The game was tied five times the last being 35-35 with just under four-minutes remaining.

Jayme Gilbert led Clay with 15 points, 11 rebounds and six assists. Page Jackson and Maleah Roberts added six apiece; Kelly Jones scored four; Kari Ealy, Monica Bowling, Holly Hoskins and Gemma Gray each had two points. Bawling added four rebounds and Jones three. Clay made 15 of 25 two point tries but made only two of 13 three-point attempts.

Whitley converted 10 of 20 free throws while Clay was three of six. Whitney Sulfridge led Whitley with 10 points; Tracy Jones had eight; Kayla Hayes ad Stephanie McCulley each scored six; Samantha Daugherty had four and Paige Hibbs three.


Lady Tigers 62, Taylor County 46
Jayme Gilbert scored 22 points, grabbed nine rebounds and handed out eight assists as Clay County cruised to the win over the Lady Cardinals. Clay County used an 11-0 run to go up 24-12 but led just 28-23 at intermission.

Maleah Roberts (5-9, Fr.) scored eight of her 13 points in the second half as Clay pulled away for their sixth win in eight games. The 5-9 freshman also had four rebounds, as did Amanda House and Page Jackson. Starting center Kelly Jones finished with six points, three rebounds and a blocked shot. Holly Hoskins added five points; Jenna Wilson had four points and four assists; Karl Ealy and Gemma Gray each scored three; Monica Bowling, Page Jackson and Bethani Herron added two apiece.

Clay shot 56% from two-point range and made five of 14 three-point tries but were just one of six from the foul line. Natalie Gowan led Taylor (3-4) with 16.