Lady Tiger
Basketball
2003-2004
Lady Tiger Home Page
Photo Album
Previous Week
Next Week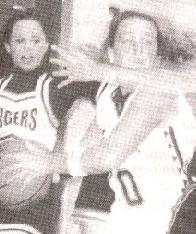 Clay's Jayme Gilbert faced constant full-court pressure against No. 3 Rockcastle County Saturday.
Manchester Enterprise - Thursday, January 8, 2004
---
Gilbert scores 21, Ealy & Roberts 11 each in 70-28 win
Clay routs Cumberland
Clay County (8-4) bounced back after Saturday's loss to No. 3 Rockcastle with an impressive performance at Cumberland Monday, posting a 70-28 win. The Lady Tigers broke open a fairly close contest (13-7) early in the second period with a 26-4 run to lead by 28 at the half.

Freshman Maleah Roberts scored all 11 of her points in the first half making all five of her shots. Jayme Gilbert had 10 points at intermission and finished with 21 points, seven rebounds, five steals and five assists. Kari EaIy scored eight of her 11 points in the second half and made three of six threes. Amanda House had a season high nine points. The 5-11 sophomore made all three field goal tries and was three of four from the charity stripe.

Page Jackson scored five points; Kelly Jones four; Jenna Wilson three; MonicaBowling, Holly Hoskins and Mariah Aubrey each added two. Eighth grader Gemma Gray did not score but grabbed six rebounds. Hoskins had five rebounds, four assists and three steals while Wilson added three rebounds and two assists.

Sheena Lee led the Lady Redskins (4-2) with 13 points and 17 rebounds.


Clay falls
If there were any doubts of Rockcastle County (11-1) deserving their No. 3 ranking those thoughts were erased after a 59-34 win over Clay County Saturday at Keith Gym. Clay (7-4) got on the board first with a Kari Ealy three point basket but Rockcastle's Tara Rowe countered with a three of her own.

Two steals by Johnna Abney led to easy lay ups giving the visitors a 7-3 lead but Clay got baskets from Page Jackson and Jayme "Skooly" Gilbert to pull even. However, the Lady Rockets forced numerous turnovers with their pressure defense and reeled off 14 straight points to lead 21-7. "Skooly's" three at the buzzer ended the streak and pulled Clay within 21-10 after the first period.

Rockcastle outscored Clay 10-6 in the second period to lead 31-16 at intermission as Heather Hammond scored eight of her 20 points. Gilbert had nine of her team-high 15 at the half. The Rockets began the third period with a 13-2 run to put the game out of reach.

Rowe poured in 14 second-half points and finished with 21 to lead the Lady Rockets. Abney finished with 13 points and six steals.

Reserve guard Holly Hoskins scored seven points for Clay, all coming in the second half. Maleah Roberts added four; Monica Bowling and EaIy finished with three each; and Page Jackson two.