Lady Tiger
Basketball
2003-2004
Lady Tiger Home Page
Photo Album
Previous Week
Next Week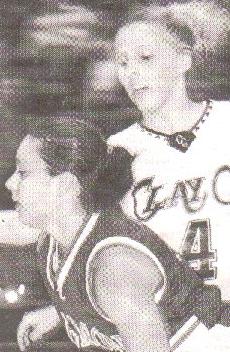 Kari Ealy forced two late Anderson County turnovers then hit a three pointer at 0:04 to send the game into overtime. Clay County won the game 55-54 when Jayme Gilbert nailed a three pointer at the buzzer in Thursday's game.




The Clay County Lady Tigers had the full support of the cheer leading squad during Thursday's thrilling win over Anderson County.
Manchester Enterprise - Thursday, December 25, 2003
---
Berea Classic
Ealy, Gilbert launch clutch 3's in 55-54 win
Lightning struck twice in Clay County's thrilling 55-54 overtime thriller with Anderson County at Berea College's new Seaerry Gym. Trailing 50-47, Clay County junior guard Kari Ealy nailed a long three pointer from the right corner with four seconds left to send the game into overtime.

The Lady Bearcats (1-4) looked to be in fine shape in overtime when Chelsea Fitzpatick scored along the baseline with 10 seconds remaining for a 54-52 lead. After Clay (4-0) in bounded the ball and reached past mid court, the ball was slapped out of bounds with only 1.8 seconds left. Coach Donnie Gray asked for a time out to draw up a play for a last second shot. Eighth grader Gemma Gray was selected to trigger the in bound pass. Gray looked and looked then tossed to Gilbert who was sandwiched as she took the pass, twisted toward the basket and fired.

The crowd watched anxiously as the high arching shot swished through the net giving Clay the dramatic win and keeping their tournament championship hopes alive. "Just the way we drew it up," Gray said, tongue-in-cheek, just moments after the win. Asked later if that was actually the way he drew up the play during the time out he grinned and said, "No"! "We were trying to set a double pick down low to free Jayme and hopefully tie the game," said Gray. "We were successful in getting the picks set but Jayme sensed a problem and went toward Gemma to get the in bounds pass," he added.

The game was close throughout with Anderson leading 12-11 after the opening period and it was tied at 20 apiece at intermission. Gilbert led all scorers with 34 points, eight rebounds and four assists. Eighth grader Gemma Gray added five points and four rebounds; Kelly Jones had four points; Ealy and Jenna Wilson scored three each; Page Jackson and Maleah Roberts two apiece. Santana McKee led the Lady Bearcats with 17. Clay made 20 of 36 shots including two of seven three point attempts that pulled out the victory. Anderson connected on 20 of 38 shots, including four of eight threes. Clay was 13 of 16 from the charity stripe while Anderson made 10 of 20 free throws. The game was tied at 20-20 at the half. Anderson was up 34-30 after three quarters.


Lincoln County 39, Lady Tigers 29
Lincoln County (2-4) pressure forced Clay County into numerous turnovers early to gain a 23-8 half time score then turned back a Lady Tiger rally to get the win. Trailing 14-6 after the opening period, Clay managed just two foul shots from Jayme Gilbert in the second period. Jenny Ralston made three of her four three pointers in the first half while Jenny Jones scored eight of her 10 in the first 16 minutes.

At half time Coach Donnie Gray didn't take his team to the locker room, instead holding his half time talk at court side. Clay closed within 10 entering the final period as the defense stiffened. After a basket by Lincoln's Jamie Duncan put her team up 31-19 early in the fourth quarter. Clay reeled off nine straight points to close within three with 4:08 to go but never go any closer. Lincoln made eight of 10 free throws the rest of the way to preserve the win.

Gilbert led Clay with 13 points and seven rebounds. Kelly Jones scored seven and had three rebounds. Kari Ealy and Page Jackson had three points apiece; Gemma Gray two and Monica Bowling one. Clay made eight of 33 shots, but hit just two of 15 attempts from three point range. Lincoln made 12 of 30 shots, but made five of 10 three pointers. The smaller Lady Patriots also won the battle of the boards 25-17.


Lady Tigers 46, Bishop Brossart 32
Clay County jumped ahead of the Lady Mustangs 13-4 and led 30-13 at intermission. By game's end every Lady Tiger had seen action. Jayme Gilbert led Clay's effort with 23 points, 14 rebounds, six steals and four assists. The sophomore made 10 of 13 field goal attempts and was three of six from the foul line.

Kari Ealy and Page Jackson each scored five points. Jackson also dished out three assists. Amanda House made both of her shots and finished with four points; Holly Hoskins added three; Kelly Jones, Maleah Roberts and Gemma Gray added two points each. Gray also had four rebounds. For the game, Clay connected on 20 of 42 shots, including three of eight from three point range. Bishop Brossart made 12 of 53 shots.


Leslie trips Clay 50-45
Trailing by six points at half time, Leslie County (5-4) dominated the third period and held on to defeat Clay County (5-2) 50-45 at Berea College's Seabury Arena Monday to take fifth place in the 10th annual Berea Holiday Classic. Heather Benton (5-11, Sr.) Leslie's All-state candidate led the Lady Eagles with 21. She made 15 of 18 free throws and was 10 of 12 from the line in the final period. Sophomore Jayme Gilbert tallied her fifth double double of the season with 17 points and a game best 13 rebounds. The game was tied four times, the last at 26 apiece. The game was tied at seven after one period and 20-20 late in the half.

Kari Ealy gave Clay in lift in the second period with three three pointers, including back to back treys in th final minute to lead 26-20 at intermission. Aided by three three pointers, Leslie reeled off 15 straight points to begin the third period and forge ahead 35-26. Amanda House scored Clay's only basket with 39 seconds left in the quarter to pull Clay within seven. Jessica Miller added 12 for Leslie, Christina Lawson had eight points and 10 rebounds. Clay's Ealy finished with nine points; Jenna Wilson added eight; Gemma Gray had five; Amanda House four and Holly Hoskins two.