Clay County
Little League
Baseball
All Stars 2003
Home Page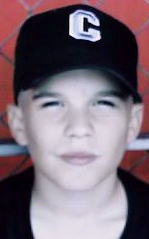 Tyler Young


Reprinted from the Manchester Enterprise
---
Outdueled

Clay falls to Rockcastle Co.
in 1-0 battle of top pitchers



Rockcastle County Iefthander, Tanner Perkins, allowed just two hits and strttck out 13. Left fielder Deron Maxey and catcher John Wilson each had singles leading off the fifth and sixth innings, respectively, for Clay's two hits.

Second baseman Tyler Young walked twice in three at bats, including a walk leading off the game. He reached third after two passed balls but Perkins struck out the side to end Clay's best threat of the game. Clay starter Todd McDaniel pitched outstanding, scattering seven hits in 5 2/3 innings. He struck out five and did not walk a batter.

Logan Kincer led off the bottom of the sixth with a solid single through the right side of the infield but the ball got by right fielder Ethan Nolan and Kincer ended up on third. McDaniel retired the next two batters on strikeouts but Tanner Childress lined a 1-0 pitch into centerfield for the walk-off win.