Clay County
Little League
Baseball
All Stars 2003
Home Page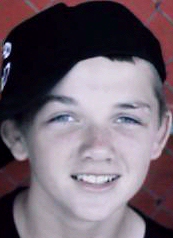 Deron Maxie


Reprinted from the Manchester Enterprise
---
Clay County 12, Pulaski 0


Corey Nicholson just missed pitching a no-hitter, surrendering a one-out single in the last inning to settle for the one-hitter. The right hander recorded 10 strikeouts and walked two batters in a game that was much closer than the final tally indicates.

Clay managed only one hit through the first four innings, a second-inning double by Deron Maxey (3-3, walk). However, a homerun by Brandon Griffin leading off the fifth inning opened the flood gates and the rout was on. Matthew Watkins followed with a single, Maxey doubled and one out later Ethan Nolan walked and Tyler Young singled to score Watkins. John Wilson followed with a ground out sending Maxey home for a 3-0 lead.

Clay scored nine times in the top of the sixth to put the game out of reach. Nicholson and Watkins had two hits apiece in the inning. John Wilson, Todd McDaniel and Maxey each doubled and Ethan Nolan added a single in the sixth.