Clay County
Junior League
Baseball
All Stars 2002
Home Page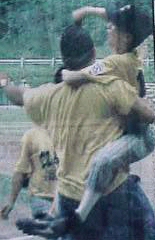 Todd McDaniel (right) and
Coach Bill Griffin celebrate
Clay County's 2-1 win over
Rockcastle County.

Reprinted from the Manchester Enterprise
---
9-10 Year Old's take Championship
McDaniel pitches out of 6th inning jam for win


The 9-10 year old Clay County All Stars earned their first ever trip to the Kentucky State Baseball Tournament after their "heart stopping" 2-1 decision over Rockcastle County in last Wednesday's District 4 Championship game. Both teams starting pitchers, Clay's Todd McDaniel and the Rock's Brandon Burkhart turned in outstanding efforts.

Clay scored the games first run in the bottom of the second inning. Burkhart walked both Josh England and Kendall Turner leading off the inning. Despite striking out the next three batters, England came around to score after a wild pitch and a passed ball. McDaniel set down the first nine batters he faced before the defending District 4 champs, Rockcastle County, scored an unearned run in the fourth inning to tie the game at 1-1.

Shortstop John Saylor doubled to right field, leading off the inning, when two of Clay's outfielder's collided, attempting to make a play on the ball. The ball was retrieved but an errant throw to the infield allowed Saylor to score. McDaniel then retired the next three batters in order.

In the bottom of the inning, Kendall Turner led off with a double and pitch hitter Zack McGeorge worked Burkhart for a walk. The next two batters were retired on strikes before Tyler Young drew a walk to load the bases. However, John Wilson lined out to the first baseman to end the threat.

In the top half of the fifth inning, the "Rock" go the potential go-ahead run in scoring position after Travis Carpenter led off with a double. But McDaniel coaxed Dustin Reynolds to hit a come backers to the mound, after checking the runner at second he threw to first baseman Alex Hensley for the first out. The next two batters were retired on a strikeout and a grounder to second baseman Tyler Young.

Clay scored their go-ahead run when McDaniel and Brandon Griffin smacked back-to-back doubles leading off the last of the fifth inning. The "Rock" made things interesting for the fans with one out singles by Saylor and Grant Burdette, putting runners on second and third. However, McDaniel brought the Clay fans to their feet after retiring the number three and number four batters in the lineup on strikeouts to end the game.