Lady Tiger
Basketball
2002-2003
Lady Tiger Home Page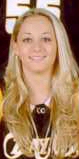 Amanda Gilbert




Priscilla Wagers

---
---
Shiloh Roadhouse
"Player of the Week"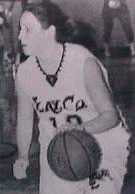 Clay County's Jayme "Skooly" Gilbert scored 43 points and handed out 18 assists in wins over Hazard, Lincoln County and South Laurel.
---
---
Manchester Enterprise - Thursday, February 27, 2003 - Page C1
---
Clay Co. tops South Laurel 52-40
Seniors Gilbert and Wagers play
final home game on Senior night


Clay County downed visiting South Laurel 52-40 on Senior Night, Monday, as Amanda Gilbert and Priscilla Wagers played before the home fans for the final time. Lady Tiger Head Coach Donnie Gray missed Monday's game to be along side his father, Estill, who is in a Lexington hospital. Assistant Coach Dick Woods filled in for the veteran coach and saw the squad turn in a solid effort after a slow start.

Clay County made just one of their first 10 shots before finally finding their shooting eye. South jumped ahead 7-2 but Clay tied the game at 7-7 after a three-point play from Jayme "Skooly" Gilbert with 3:11 left in the opening period. The lead changed hands seven times early on, the last time with Monica Bowling scored to put Clay up 16-15 with 6:55 to play in the second period.

Bowling's basket began a 10-0 Lady Tiger run for a 24-15 lead. The visitors rallied to close within 26-21 at the half after Brittney Turner hit a three-pointer just before the buzzer. Clay County was led in the first half by Jayme Gilbert and Priscilla Wagers with 11 and seven points, respectively. Taran Johnson had six for the Lady Cards at the break.

Early in the third South closed to within 28-25 but Kari Ealy nailed a three-pointer to push Clay's lead back to six. The quarter ended with the home team up 36-31. Johnson tired to keep the Lady Cards in contention, scoring six points in the third. The Lady Tigers scored the first seven points of the fourth quarter on two foul shots from "Skooly" and a two-pointer and three-pointer from Kari Ealy, to go up 42-31.

I thought Kari played her best all-around game of the season tonight" Woods said after the game. "Skooly" Gilbert led all scorers with 15 points and grabbed seven rebounds and dished out six assists; Amanda Gilbert finished with a double-double, 13 points and 10 rebounds; Ealy had 10; Wagers added nine points and six rebounds; Paige Jackson scored three and Bowling two. Amanda House did not score but grabbed three rebounds. Surprisingly, Clay County won the battle of the boards with the taller Cards, 31-19.

"Their size concerned me going into the game," said Woods. "But we did a nice job on the boards and I thought we handled the ball really well (against their pressure)", he added. Johnson led South (14-11) with 13; Turner added seven; Amber Neace, six; Mallory Jones and Jennifer Hamblin scored five apiece; Whitney Smith and Alsip two each.


Lady Tigers at Lincoln
Thursday's Game
Lady Tigers 43, Lincoln County 41


The Lady Tigers (17-6) overcame a nine-point second half deficit and rallied in the final seconds to win on the road at Stanford. Clay trailed 24-15 early in the third period but closed to within 25-24 behind the offense of Jayme "Skooly" Gilbert. Lincoln's Megan Pitts drilled a long three pointer for a 28-24 lead. Amanda Gilbert scored inside to pull the Lady Tigers to within two points but Pitts hit another long three for a 31-26 advantage.

Paige Jackson made one of two foul shots to close the margin to four points but Pitts nailed another three to put the Lady Patriots ahead 34-27 with 0:45 to play. Priscilla Wagers drove to the basket and was fouled with 0:11 remaining in the period. She made both free throws to close the gap to 34-29. Clay moved to within 36-34 with 2:43 remaining in the game but Lincoln pulled ahead 39-34 with 1:59 left. "Skooly" then drove to the basket and was fouled at the 1:40 mark. Her two foul shots pulled Clay within 39-36. Nickie Long made one of two foul shots to give Lincoln a 40-36 lead but "Skooly" was fouled on a drive with 1:17 to go. Her two free throws closed the deficit to two.

Following a time-out with 1:04 remaining, "Skooly" stole the in-bound pass and was fouled as she attempted the game tying lay up. Her two free throws at 0:59 tied the game for the first time at 40-40. Lincoln missed a shot on the other end and Wagers grabbed the rebound and was fouled with 0:40 left. She made one of two shots giving Clay their first lead since an early 5-4 advantage. The Lady Patriots missed a shot to take the lead and Amanda Gilbert cleared the boards for Clay County and moments later, "Skooly" was fouled and she made one of two foul shots for a 42-40 lead.

Lincoln misfired on their attempt to tie the game and Amanda Gilbert grabbed the miss and handed off to her younger sister. "Skooly" was fouled and made one of two shots for a 43-40 lead with 0:26 left. Janie Duncan was fouled with 0:08 remaining and made the first of two shots to pull within 43-41. She intentionally missed her second shot hoping a teammate could grab the rebound but a lane violation was whistled, giving Clay the ball.

Jayme Gilbert led Clay with 16 points and nine rebounds; Amanda Gilbert added 12 points and seven rebounds; Priscilla Wagers scored 11; Kari Ealy and Paige Jackson had two each. Pitts led Lincoln (13-11) with 12, all from three-point range.


Tuesday's game
Lady Tigers 67, Hazard 50


Clay County (17-6) posted a 15-12 first period lead then extended the margin to 32-16 at the break en route to the win over the visiting Lady Bulldogs. Senior forward Amanda Gilbert scored 13 of her game-high 19 points in the second half as the Lady Tigers built a 59-30 lead before the final margin dwindled late in the game. Leading 15-14 with 7:21 left in the second period, Clay went on a 20-2 run and a 35-16 lead after Kari Ealy sank a three-pointer to start the third period.

Jayme "Skooly" Gilbert added 12 points, all in the first three quarters; Ealy finished with 11; Monica Bowling scored eight; Priscilla Wagers, seven; Jenna Wilson had five; Amanda House and Paige Jackson added two each and Mariah Aubrey one. Hazard's Brittany Campbell shared game-best honors with 19; Megan Riddle had 11.