Lady Tiger
Basketball
2002-2003
Lady Tiger Home Page
---

Coach Donnie Gray saw his team rally from 13 points down to defeat No. 24 Rockcastle Co. Friday.
---
Shiloh Roadhouse
"Player of the Week"

Kari Ealy made three consecutive 3's and scored 11 points in the 4th period as Clay County rallied from 13 points down to defeat Rockcastle 55-53 in overtime.
---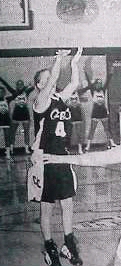 Kari Ealy made three straight 3-pointers during Clay's comeback.
---
Manchester Enterprise - Thursday, January 9, 2003 - Page A6
---
Clay rallies to nip Rockcastle in OT
Down 36-23, Lady Tigers post a 55-53 win
after freshman Jenna Wilson scores at buzzer
Clay County coach Donnie Gray watched anxiously as his team fell behind No. 24 Rockcastle County 36-23 after three quarters and then proceed to out score the Lady Rockets 23-10 over the next eight minutes to force overtime. In overtime Jenna Wilson's basket, as time was running out, gave Clay County the 55-53 upset before a capacity crowd in Mt. Vernon Friday night.

"This was some kind of atmosphere to play in tonight," said Gray. "The girls didn't quit... we struggled all night to put the ball in the basket but in the fourth quarter the shots began to fall," he added. With the Lady Tigers trailing 46-44 and 0:20 remaining, Jayme "Skooly" Gilbert sank two clutch foul shots to tie the game at 46-46. Clay forced a turnover and had a chance to win in regulation but a contested shot by Amanda Gilbert didn't fall.

During the four minute overtime period Clay raced to a 52-46 lead after a three-point basket by Priscilla Wagers, one of two foul shots by Jenna Wilson and two more freebies by Wagers, capped of a 29-10 run. After making two foul shots the host team was within 52-48 but "Skooly" then made one of two free throws (at 0:49) for a 53-48 lead. However; after two foul shots by Ashley Mink (0:37) and a three-point basket by Tara Rowe at (0:14) the Rockets had tied the game at 53-53.

After a deflected pass went out of bounds, Clay inbounded the ball to "Skooly" with 0:06 remaining, she penetrated the lane then alertly dished the ball to Jenna Wilson who put the ball up-and-in at time expired.

Game Over!

Here's a recap of the Lady Tigers' phenomenal 4th quarter comeback. In the fourth quarter rally, Clay got 11 points each from guards Jayme Gilbert and Kari Ealy, with Wagers adding a free throw. After missing her first three shots in the period, Ealy countered with a two-point basket and then added back-to-back-to-back three-pointers to pull Clay within 44-41 with 1:44 left in the game. After a basket by Jessie Hayes put the home team up 46-41, Wagers made one of two foul shots with just under a minute to play to close the gap to 46-42. Rowe then missed the front end of a bonus with 0:50 on the clock. Twenty-two seconds later, Gilbert sank two more free throws to pull Clay within 46-44.

Rockcastle's Hayes then missed the front end of a bonus with 0:26 left giving the Lady Tigers new life. Gilbert was fouled going to the basket with 0:20.5 remaining and she sank both attempts sending the game into overtime. Senior forward Amanda Gilbert, didn't score in the final period or in overtime but did turn in another tremendous effort with 10 points, a game-high 19 rebounds, along with one assist. "Skooly" led Clay County (11-2) with 23 points, six steals and four assists; Ealy scored 11, all in the fourth period; Wagers had eight points and five rebounds; Wilson finished with three, including the game winning basket. Kelly Jones did not score but did grab four rebounds.

Clay won the battle of the boards 39-37, thanks to Amanda Gilbert's 19 rebounds. The Lady Tigers made just 13 of 41 two point baskets for 32% shooting but did make 4 of 10 three's. Johnna Abney led the Lady Rockets (10-3) with 12 points.