Lady Tiger
Basketball
2002-2003
Lady Tiger Home Page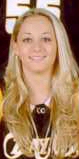 Amanda Gilbert



Manchester Enterprise - Thursday, January 16, 2003 - Page C1
---
Clay slays Green Dragons
Amanda Gilbert scores 13 points
and grabs 9 rebounds in win


Clay County (12-2) scored the games first 11 points and cruised to the 63-32 victory over Harlan (3-10) Thursday. Monica Bowling's short jumper gave the visiting Lady Tigers a 2-0 lead then Kari Ealy (two) and Priscilla Wagers combined for three straight three-pointers and the rout was on.

Amanda Gilbert scored eight of her game high 13 points in the first half as Clay built a 32-14 lead at intermission. The 5-8 senior had a game high nine rebounds and also added six steals. Wagers, Ealy and Paige Jackson finished with nine points apiece. All of Ealy's points came from the three-point range. Point guard Jayme Gilbert scored seven points; grabbed four rebounds; had four steals and dished out seven assists. Kelly Jones (five rebounds and three steals), Monica Bowling (three rebounds), Jenna Wilson and Maleah Roberts (six rebounds) each scored four points. DeRonna Moore, Amanda House (three rebounds), Mariah Aubrey (one rebound) and Kayla Dezarn (one steal) played but did not score.

Clay County won the battle of the boards 39-30 and made six of 19 three point tries. The Lady Green Dragons made just one of 15 three-point attempts. The Lady Tigers forced 19 turnovers while committing 11.