Burning Springs
Football 2003
Home Page
Photo Album
Previous Game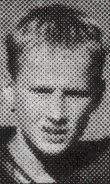 Daniel Sumner

Reprinted from the Manchester Enterprise
---
Wildcats, Bears rally in Semis


Last Wednesday's Elementary Football Tournament semifinal action proved to be as advertised, two classics. Both Hacker and Paces Creek posted come-from-behind victories to move on to the championship game. In the opener, Hacker (6-3) earned a 12-6 upset of Burning Springs (7-2) and Paces Creek (7-2) rallied in the final seconds for an 8-6 win to dethrone three-time defending County Champion Horse Creek (6-2).

Hacker will be making their second straight appearance in the title game. The teams split two earlier games the season. Hacker won the season opener 22-6 on August 26 but Paces Creek defeated the Wildcats 12-0 in Clay County Bowl September 13.

(Hacker defeated Paces Creek in the Spider Thurman Bowl 8-6 in three overtimes)

Hacker 12, Burning Springs 6

Despite a slow start, defense proved to be the key to the Wildcat win. Trailing 6-0, Hacker scored two touchdowns in the second period to go up 12-6 at intermission. Neither defense allowed a threat in the second half.

Hacker's first two offensive possessions they went three and out. The Bobcats were stopped on their first drive but on their second possession they hit pay dirt with 1:29 left in the first quarter.

On first and 10 at their 20-yard line, Bobcat quarterback John Wilson picked up six yards and Daniel Sumner followed with a one-yard run. One third and three, Sumner took the hand off from Wilson and bolted to the outside and raced the right sideline 73-yards for the touchdown. The conversion failed.

The Wildcats tied the game on the first play of the second period on a one-yard run by Jonathan Smallwood. The score had been set upon the last play of the opening period when Chuckie Hubbard caught a 60-yard pass from Matthew Watkins.

Hacker stopped the Bobcats on downs and began the next offensive series at their own 27. Seven plays later, which included a 15-yard penalty on the Bobcat sideline, Smallwood ran in from six yards out for the go-ahead touchdown. He carried the ball five times on the drive picking up 27 yards. Watkins had a carry far eight yards and Todd McDaniel had a carry for 23 yards.

"Our defense was what carried us tonight said Hacker Coach Ben Carnahan, who played on the Wildcats first championship team in 1983. "We are a much stronger team defensively, since we've got (Jonathan) Smallwood back from his (broken arm) and Todd (McDaniel) came out to play," he added. Tanner Gilbert and Todd McDaniel headlined the Hacker defense. Gilbert had 12 tackles, three for no gain, and McDaniel had eight tackles, including three for losses.

Burning Springs got new life when they recovered a Hacker fumble on fourth and one at the Bobcat 45 with 2:15 left in the game. However, after an incomplete pass, McDaniel dropped Sumner in the backfield for a nine-yard loss and on third and 19, Hacker's Matthew Watkins intercepted a pass at mid-field to seal the victory.

Smallwood gained 57 yards on 14 carries, McDaniel had 35 yards on three carries and Watkins rushed seven tries for 25. Sumner led all rushers with 97 yards on 14 carries. He was over 100 yards rushing at one point but lost 19 yards on three of his second half carries.