Burning Springs
Football 2003
Home Page
Photo Album
Previous Game
Next Game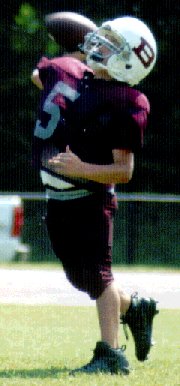 Quarterback John Wilson
ran for 2 touchdowns and
threw for another in the
20-14 win.
Reprinted from the Manchester Enterprise
---
Bobcats scratch out
20-14 win over Bears


Some fans went so far as to say that Burning Springs' 20-14 win over Paces Creek last Tuesday was the best grade school football game they'd ever witnessed. It may or may not have been the best ever but it certainly was one of the most exciting in some time.

With the score tied at 14 with under a minute to play in regulation, Burning Springs' quarterback John Wilson hit Daniel Sumner up the middle for a 15-yard scoring pass. The conversion failed but the Cats were up 20-14 with 0:47 left.

Paces Creek moved the ball to near mid-field as the last few seconds were ticking away but mix up with the snap didn't allow the Bear offense to ran the play designed by Coach Gary Allen as time expired.

"This was the greatest game I've ever been a part of," said Bobcat Coach Alan Bradshaw. "I just heard some people saying that it was the best grade school game they'd ever seen and I won't argue with them," he said.

The win clinched the No. 2 seed for the Bobcats behind Horse Creek. After a scoreless first period, the Bears took the lead after Kendall Reed's five-yard touchdown run with 5:05 remaining in the first half. Ben Jackson's two-point conversion run pushed the lead to 8-0.

Starting at their own 35 the Bobcats moved the ball to the Paces Creek 48 after a 17-yard run by John Wilson. But the Cats fumbled the ball on a pitch play and Jackson recovered for the Bears.

The Burning Springs defense held the Bears on downs after the fumble and took over on their own 35 with time running out. That's when Bobcat quarterback John Wilson took the snap and raced around the left corner and streaked 65-yards down the sideline, crossing the goal line as the clock ticked down to 0:09.

The Bobcats conversion attempt to tie the game failed as Delbert Collins tackled Daniel Sumner just short of the goal line. Burning Springs took their first lead in the third period on a 35-yard touchdown run by John Wilson. The conversion put the Cats up 14-8.

Paces Creek tied the game at 14-14 when Jackson took a pitch from quarterback Josh England and ran 12 yards for the touchdown but the two-point conversion attempt failed. The Bobcats were able to break the tie on Sumner's 15-yard reception. Wilson's game winning touchdown pass to Sumner was preceded by a 34-yard pass play to Zac Kemp from the Bear 49.