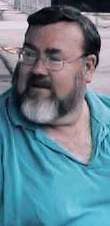 Joe Burchell
Sports Editor



Hoops 2003
Joe Burchell, Sports Editor
Bobcats: county's youngest team


Veteran coach Scott Reid takes over the helm at Burning Springs after eight seasons at Goose Rock. The Bobcats have a load of talent on their roster, but they are short on experience with only three sixth graders.

"We play with a lot of youth," said Bobcat Coach Scott Reid, who guided the Rockets to the 2000 county championship and runner up spot a year later. "But we are blessed with a lot of raw talent and they will only get better with hard work and heart -- something this team has plenty of," he added. Jon-Ross Barrett is the team's big many yet has the ability to put the ball on the floor. He is a strong presence underneath the basket and has developed a nice offensive game.

John Wilson, a fifth grader is the Bobcat point guard. "John is super quick and a good defender," said Reid. Wilson has improved his shooting range from a year ago. His ability to set up his teammates for easy baskets will be a key for the team. Noah Reid is "Mr. Hustle" according to Coach Reid, and will likely lead the team in "floor burns". He started for his day's Rocket team last season and has the knack for scoring inside against bigger opponents. He is also a solid ball handler.

Zac Kemp is a promising fourth grader, and will get better as the season progresses. Jimmy Smith and Cameron Wagers give the Bobcats some needed strength inside and will likely rotate starts at one forward slot. Tyler Thompson was injured early in the season but will see more and more action as the season unfolds.


---
RECORD OR NOT?
Burning Springs' fifth grader John Wilson hit seven of 11 three pointers in the Bobcats 61-48 loss to Goose Rock Thursday. That might be a record for grade school basketball since the county adopted the middle school for seventh and eighth grade teams. I would appreciate any info on this subject.

I do know that Burning Springs had a player hit nine threes in a game as an eighth grader. However, the former Bobcat coach couldn't remember his name, just that everyone called him "Pea Head".


---
2003-04 Bobcat Roster
#3 John Wilson, #5 Noah Reid, #24 Zac Kemp, #52 Jimmy Smith, #50 Jon-Ross Barrett, #40 Cameron Wagers, #12 Tyler Thompson, #4 Logan Westerfield, #22 Anthony Hunter, #34 Adam Furguson, #32 Chase Lewis, #33 David Phillips, #10 Aaron Thompson, #14 Darren Copeland