Bobcat
Basketball
2003-2004
Bobcat Home Page
Photo Album
Previous Week
Next Week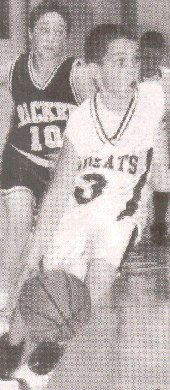 John Wilson brings the
ball up the floor
against Hacker.
Manchester Enterprise - Thursday, November 20, 2003
---
Burning Springs 60, Oneida 29

Bobcats: Noah Reid 14, John Wilson 12, Jon-Ross Barrett 9, "Speedy" Thompson 6, Adam Furguson 4, Tyler Thompson 4, Zac Kemp 3, Cameron Wagers 2, Jimmy Smith 2, Chase Lewis 2, David Phillips 2.

Cougars: Donnie Begley 25, Dylan Hacker 2, Michael Davidson 1, Dustin Davidson 1.


Wildcats rally with defense, top Bobcats


Burning Springs appeared headed for a huge upset Saturday morning after leading the Wildcats 18-10 with 3:20 left in the third period.

However, Hacker coach Ben Carnahan ordered his team into a full court pressure defense and it paid off forcing the Bobcats into numerous turnovers. By quarter's end, the Cats had reeled off 18 unanswered points to lead 28-18.

Their lead grew to 39-21 before the final count. Todd McDaniel and Matthew Watkins led the winners with 15 and 11 points respectively. Tanner Gilbert scored eight and grabbed twelve rebounds; Jonathan Smallwood added five points and nine rebounds; Josh Hall scored two.

John Wilson led the Bobcats with eight; Jon-Ross Barrett had seven points and eight rebounds; Noah Reid added four; Zac Kemp, Jimmy Smith and Tyler "Whitey" Thompson each had two apiece.