Bobcat
Basketball
2002-2003
Bobcat Home Page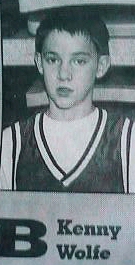 Manchester Enterprise - Thursday, November 21, 2002 - Page C1
---
Wolfe scores 14 pts. to lead
Bobcats to win over Cougars
Burning Springs 50, Oneida 28


Kenny Wolfe scored 14 points in the Bobcats win at Oneida. Josh Messer and Jon-Ross Barrett scored 14, 12 points respectively, and John Wilson added 10 points for the winners. Jarrod Hooker scored eight points; Zac Kemp, Tyler Messer and Daniel Sumner each scored two points. Kendall Reed led the Cougars with 13 points; Donnie Begley added 11 and Nicholas Morgan finished with four points.


Jags slip past Bobcats 42-40

Laurel Creek pulled off a minor upset on Saturday with their 42-40 win over Burning Springs. The Jaguars led early, 8-5, but by halftime the Bobcats were on top 23-16. However; Brandon Griffin and Derek Couch scored eight and four points, respectively, in the third period as the Jag's out scored the Cats 18-7 to take a 34-30 lead.

With teammate Josh Messer out of the game on fouls since the third period, the Bobcat's Kenny Wolfe, tried to bring his team back, scoring eight points in the final period before fouling out. But, the Jag's were able to hold on and post the win.

Brandon Griffin led the Jaguars with 16 points and guard Derek Couch added nine. Clinton Sizemore scored six; J.R. Smith had five points; Derek Emery and Ben Woods each added two and Josh Foster and Brandon Bilbrey had one point apiece. Kenny Wolfe led the Bobcats with 20 points and John Wilson scored 13 points. Jon-Ross Barrett added four; Josh Messer; two and Jarrod Hooker had one point.

The Bobcats didn't have Coach Alan Bradshaw on the sidelines. He had to sit out the game because of his ejection during the late stages of Thursday's loss at Hacker. Tonya Brumley, the Lady Bobcat assistant coach, was on the sideline Saturday.


Hacker rallies to foil Bobcats bid for upset
Wildcats overcome 12-0 start to win

The host Wildcats fell behind 12-0 but closed within 29-25 at halftime and went on to down Burning Springs Thursday. Much of the game was spent at the charity stripe. Burning Springs made 12 of 24 foul shots and Hacker connected on just 10 of 27.

After the Bobcats fifth starter was whistled for his fifth foul, Bobcat coach Alan Bradshaw was assessed two technical fouls for his disagreement with an official. He was forced to leave the game with one minute remaining.

Matthew Watkins led the Wildcats with 15 points; Jeremy Garrison and Corey Nicholson each scored 13 points and Charles Parker added 12 points; Todd McDaniel scored eight. Nicholson had a game high 22 rebounds and Parker added eight boards. Kenny Wolfe paced the Bobcats with 17 points; Josh Messer, who fouled out in the third period, finished with 14 points. John Wilson scored 11 points; Jon-Ross Barrett had three and Tyler Thompson one.