Bobcat
Basketball
2002-2003
Bobcat Home Page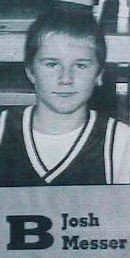 Manchester Enterprise - Thursday, November 14, 2002 - Page C2
---
Burning Springs 45, Goose Rock 30

Josh Messer and Kenny Wolfe scored 19 and 16 points respectively, to lead the No. 4 Bobcats past the Rockets Saturday at CCMS gym. The Bobcats led 11-7 after one quarter then built the lead to 21-12 by halftime. Jarrod Hooker, John Wilson, Jon-Ross Barrett, Tyler Thompson and Daniel Sumner scored two points each. Nathan Fields led Goose Rock with nine points; Matthew Mitchell added eight; Noah Reid had five; Eric Smith, Brian Adams, Nathan Mitchell and Scott Smith all had two points each.


Bobcats slip past Indians 45-38


Josh Messer scored 17 points to help lead No. 4 Burning Springs to a 45-38 win at Big Creek last Thursday. Messer also grabbed nine rebounds. The game was close throughout, with the host Indians holding a 14-10 lead after the first period. The game was tied 23-23 at halftime.

Kenny Wolfe scored nine points and John Wilson added eight for the winning Bobcats. Zac Kemp scored six points, Jon-Ross Barrett added five and Jarrod Hooker, three. Indian guard Tyler Young led all scorers with 24 points. Delbert Collins, Jr. had 11 points and William Grubb scored three and pulled down 11 rebounds.