Clay County
Little League
Baseball
All Stars 2003
Home Page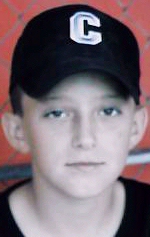 Matthew Watkins


Reprinted from the Manchester Enterprise
---
Clay County 6
Tri Cities 3
(8 innings)


Clay County dodged a bullet in their extra inning game with Tn Cities (Cumberland) late Friday night. Trailing 3-2 going into the bottom of the seventh, Tri Cities tied the game at 3-3 and appeared to be in the drivers seat after loading the bases with just one out and a 2-0 count on the batter.

Left fielder Matthew Watkins, who started the game at third base, was called to the mound in relief of Deron Maxey. After two quick strikes and a foul tip, the right hander coaxed Cody Ison to popup to third baseman Brandon Griffin and then struck out Kent Langham to end the threat.

Clay scored three times in the top of the eighth after Tyler Young (4-5) and John Wilson (3-5) each singled to right field to start the inning and both scored on Todd McDaniel's (2-4) triple to right center. McDaniel later scored on a wild pitch for a 6-3 lead.

Watkins retired the side in order in the eighth to earn the victory. It was Tanner Gilbert's two-out single, scoring Griffin who had walked (his third walk) leading off the inning that had put Clay up 3-2 in the top of the seventh.

Griffin started the game and pitched six strong innings, allowing two runs on four hits with nine strikeouts and four walks. Clay missed opportunities to put the game away early, leaving the bases loaded in thc second, third and fourth innings.

Tri Cities took a 1-0 lead in the first on a two-out run scoring triple by Zac Blanton but Clay went ahead 2-1 in the top of the third after a two-out, two-run double by Matthew Watkins (3-5). Young had begun the third inning with a single and after a foul out and a fielder's choice, Nicholson singled and Griffin walked setting up Watkins' at bat.