Clay County
Little League
Baseball
All Stars 2003
Home Page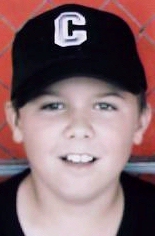 Ethan Nolan


Reprinted from the Manchester Enterprise
---
South London 4, Clay County 2

Host South London defeated Clay County 4-2 last Tuesday to win the Area 2 Little League Tournament winners bracket. South took the early lead on Wes Deanís two-out three-run homer in the top of the second inning off Clay starter Brandon Griffin, who suffered with control problems early.

Clay scored twice in the bottom of the inning on a two-run single by Ethan Nolan, scoring Mathew Watkins and Tanner Gilbert, who had reached on walks. The score remained 3-2 until the top of the sixth when South pushed across a run after a wild pitch. The runner, Ed Woody, was initially called out but the ball was jarred from Griffin's glove after he took the throw from catcher John Wilson near the backstop.

South had just three hits in the game (Dean, Martin and Woody) but had four batters walk with another hit by a pitch. Griffin struck out nine. Clay managed just two hits off South's Woody (Nolan's second inning single and a sixth inning single by Matthew Watkins). Woody walked five and struck out nine.