Clay County
Little League
Baseball
All Stars 2003
Home Page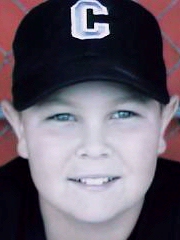 Brandon Griffin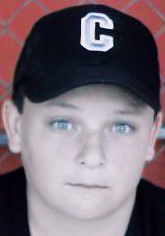 Tanner Gilbert

Reprinted from the Manchester Enterprise
---
Clay overpowers
North London 24-0
Griffin's two homers headline

27-hit attack; Nicholson goes 5-5


Two-time defending Area 2 Little League (11-12) Tournament champion Clay County overpowered North London All-stars 24-0 Sunday to earn a spot in the winnerís bracket final against tourney favorite and host South London Tuesday night.

After scoring five runs in the top of the first, Clay added 13 more in the second and three each in their last two at bats. Clay batters combined for 27 hits, including two homeruns, two triples and five doubles in four innings of play.

Several Clay batters had big afternoons but none more productive than third baseman Brandon Griffin and first baseman/reliever Corey Nicholson who combined to drive in 12 runs. The 11-year old Griffin smacked a two-run homer over the left field fence in the five-run first inning then added a grand slam in his first of two at bats in the second.

His second plate appearance in the inning ended after a non-intentional bean ball from a relief pitcher. He finished the day 2-4. Nicholson had four singles and a double in five at bats and also drove in six runs. Shortstop Mathew Watkins and right fielder Ethan Nolan each went 4-4 on the day with four and three RBIís respectively. Leadoff bath Tyler Young was 4-5 with double and triple.

The second baseman also scored four runs. Catcher John Wilson added a double, two singles and a walk in four official at bats and scored four times. Todd McDaniel tripled, doubled and was hit by a pitch in four official at bats. Left fielder Tanner Gilbert was 3-3 with two RBI's.

Three Clay pitchers combined for a one-hit shutout. Starter Todd McDaniel retired the side in order in the first inning, with one strikeout. Corey Nicholson worked the second and retired three of the four batters he faced, giving up a two-out opposite-field single to left handed hitter Rick Mullins.

The first two outs came on strikeouts. Deron Maxey retired six straight over the final two innings, fanning four.