Clay County
Junior League
Baseball
All Stars 2002
Home Page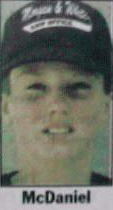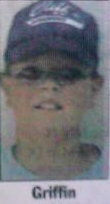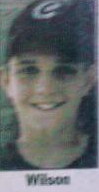 Reprinted from the Manchester Enterprise
---
Clay County routs London 15-1
Griffin allows one hit and strikes out 10;
Wilson, McDaniel each collect 3 hits


Clay County's Junior League All Stars showed why many feel they are one of the top contenders for a state tournament berth, with a convincing 15-1 win over North London in Monday's first round game of the Area 2 Tournament at the Ramsey Ballpark. The Clay stars scored six runs in the top of the first inning and added three more in each of the next three at bats. Todd McDaniel tripled two runs home for a 2-0 lead after scoring two runs on passed ball and fielder's choice, Delbert Collins drove home two more runs with a two-out double to left-center field.

In the North London first inning, Clay starter Brandon Griffin struck out the first three batters on just 10 pitches. He finished the game with a one-hitter, striking out 10 and walked five in four innings of work. Catcher John Wilson opened the Clay County second inning with a triple and scored on a ground out to first base by McDaniel. Griffin and Kendal Sizemore then reached base via walks and one out later, scored on a sharp single to center by Alex Hensley. Griffin struck out the side in North's second inning, but did walk the second and third batters he faced.

In the top of the third inning, lead off batter, Tyler Young laced a one-out single to right and then moved to third on a single by Wilson. Both runners crossed the plate on a double by McDaniel. McDaniel later scored on a passed ball. The first batter up in the third for North, Nathan Davidson, reached on a walk, but was later "cut down" at second on a fielder's choice. Clay's center fielder Kendal Sizemore turned what looked like a sure single by Danny Messer into a force-out at second base. Griffin then struck out the next two batters.

After the first two batters were retired in Clay's fourth inning, the local all-stars reeled off six straight hits (Young, Wilson, McDaniel, Griffin, Sizemore and Josh England) to push across their final three runs. All hits were singles with the exception of Wilson's second triple of the game. Cody Brewer led off the bottom of the fourth for North London with a walk. Brewer moved toward third after a single by catcher Matt Bearse. Clay attempted a throw to third but the throw was wild and Brewer scored with Bearse going to third. After a strikeout, Bearse attempted to score when a toss back to the mound was misplayed. However, Wilson quickly retrieved the ball and tagged Bearse for the second out. Griffin recorded the games final out with a called third strike. McDaniel drove in five runs for Clay with Wilson, Griffin, Hensley and Collins plating two runners each. Clay collected 13 hits in the game, including five extra base hits.