Clay County
Junior League
Baseball
All Stars 2001
Home Page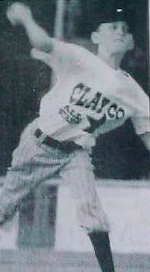 All-Star pitcher
Matthew Watkins
pitched in the
District Finals.


Reprinted from the Manchester Enterprise
---
9 & 10's remarkable
run ends in final
District Runner-Up;
Rockcastle wins 13-6


BY: John Dobson

HARLAN - Clay County's Junior League All-Stars' improbable run in the 4th District Tournament ended with a 13-6 loss to Rockcastle County in the tournament's final. Down 6-0 in the second, the All-Stars mustered an admirable comeback, getting to 6-5 by the start of the fourth inning. Rockcastle took over from there, however; drawing the curtains on what was a remarkable season for Clay's 9 & 10 year-olds.

They went 6-0 after falling to the losers' bracket in the Area 4 Tournament and didn't blink again till they reached the District Championship, just two wins shy of the State Tournament.

All-Stars coach Todd McDaniel felt that a terrific Rockcastle club and the wear of the team's five consecutive trips to Harlan stymied Clay's efforts. "We didn't have out best game," McDaniel said. "I think it was a combination of us being tired and weary of going to Harlan. Not to take anything away from (Rockcastle) - they're a good team. But I'd like to have played them when we had a good game and see what happened."

McDaniel enjoyed the tournament experience, and felt his team did as well. "We had a ball. Those three works of intense baseball, whether we were playing or practicing, it was a good experience for the adults involved as well as the kids, I think."

McDaniel sees a bright future ahead for this team's alumni. "I'm proud of them," McDaniel said. "This group of boys should be able to do big things as they move up - this has raised their expectations. Maybe they'll live up to the standards set by this year's (State Tournament-bound) Little Leaguers.