Clay County
Junior League
Baseball
All Stars 2001
Home Page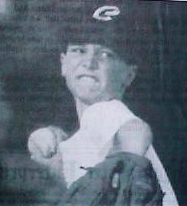 All-Star pitcher Todd
McDaniel Jr. picked
up wins in two of Clay
County's four District
Tournament victories.


Reprinted from the Manchester Enterprise
---
9 & 10's roll
into District final

BY: John Dobson

HARLAN - The Clay County Junior League All-Stars continued their improbable run in the 4th District Tournament last week, winning four games to advance to the District Championship. The All-Stars have won six straight loser-go-home games since a loss to South London #2 in the Area 4 Tournament put them in the loser's bracket - an accomplishment that coach Todd McDaniel is immensely proud of. "Once you get into that bottom bracket, it's hard to get out of there," McDaniel said. "You play twice as many games as you do in the upper bracket. But we're still alive. We're on a roll; they don't want to stop playing. They keep doing what needs to be done."

Clay County 9, Pulaski County 0

Matthew Watkins pitched a shutout to lead the All-Stars over Pulaski. "We were in control the whole way through," McDaniel said. Corey Nicholson had 3 RBI and scored for Clay. Tyler Young, Josh England, Deron Maxey and Eathan Nolan also scored.

Clay County 18, Middlesboro 3

The All-Stars exploded for 18 runs to defeat a talented Middlesboro squad in 4 innings. "We came out hitting immediately," McDaniel said. "Our pitching kept them off balance, and most everybody scored or had a hit. It was a total team effort." Todd McDaniel Jr. stifled the Middlesboro to get the win.

Clay County 4, Hazard 3

Clay jumped ahead with three runs in the first and added one in the fifth to squeak past Hazard. Nicholson and Young had RBI's for the All-Stars. Watkins pitched another excellent game, striking out five to earn the win.

Clay County 9, South London #2 5

The All-Stars avenged a 9=0 loss to South London #2 in the Area Tournament with a 9-5 win. McDaniel Jr. pitched through several Clay defensive miscues to get the win. Young, McDaniel Jr. and Nolan scored two runs each and Watkins drove two runs home for the All- Stars.