Clay County
Junior League
Baseball
All Stars 2001
Home Page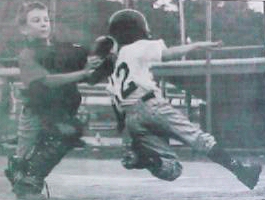 Clay County shortstop
Tyler Young barely
evades the tag.


Reprinted from the Manchester Enterprise
---
9 & 10's persevere,
advance in tourney

By: John Dobson

CORBIN - It would have been easy for Clay County's 9 & 10 year-old All-Stars to give up after losing to South London #2 9-0 in the Area 2 Tournament. Make that being no-hit by South London #2. They didn't give up. It would have been easy for the All-Stars to whither when confronted with the task of having to reel off wins against South London #1, North London and Corbin to stay alive in the tournament. Make that having to defeat Corbin AT Corbin. They didn't whither. In fact, they thrived, defeating South London 4-3, North London 8-2 and Corbin 14-3 to advance to this week's District Tournament in Harlan.

All-Stars coach, Todd McDaniel says that Clay's pitching carried the team in the tournament. "Our pitching has really carried us - Todd McDaniel (Jr.), Deron Maxey and Matthew Watkins have pitched complete games every time we've sent them out," McDaniel said. Clay's defense has also played well, something not always seen at this level of baseball. "We haven't given away much defensively," McDaniel said.

McDaniel made particular not of third baseman Ethan Nolan's outstanding play at the corner. "Ethan has made some miraculous plays at third base," McDaniel said. McDaniel was impressed with his team's character in the win over host Corbin that sealed their berth in District play. "To beat Corbin at Corbin, in the championship game of the bottom bracket, a 'loser-go-home' situation, was huge," McDaniel said.