CCHS
Track
2003
Home Page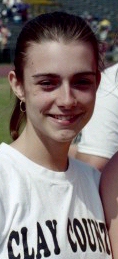 Jenna Wilson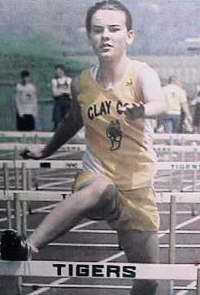 Freshman Katie Smallwood ran the hurdles for the first time Saturday.


Manchester Enterprise - Thursday, April 17, 2003 - Page C1
---
APPALACHIAN TRACK CLASSIC
Fleming, Bell win Classic
Clay's Jenna Wilson sets school record in triple jump


The Fleming County girls' (156.5 points) and Bell County boys' (151 points) track and field teams captured the annual Appalachian Track Classic at Tiger Stadium Saturday in what was by far the nicest day of spring to-date. Clay County's girls' squad finished third (69 points) and Oneida Baptist Institute finished in a tie for 10th. The Clay girls' "B" team finished in ninth place. OBI boys' placed ninth (6) just ahead of the Tigers. Leslie County (98) and Knox Central (135) finished second in the girls and boys competition respectively.

Here are some highlights from Saturday's event: Fleming's Laura Wagner and Donald Green were named girls and boys' Most Valuable Performers, respectively. Wagner, a senior, finished first in the triple jump setting a new stadium and Classic record (33' 1/4"). She also won the long jump, 100 meter hurdles and the high jump (5' 2"). Green set a new Classic record in the 400 meter dash (51.33). The previous Classic record holder in the 400 meter dash was Pulaski County's Ryan New. Green also won the 800 meter dash, long jump and 200 meter dash.

Clay County freshman Jenna Wilson, competing in her first track meet of the season, was second in the triple jump and set a new school record of 31' 9". She had set the mark several times last season, finishing with a record jump of 30' 7" in last years regional. Lady Tiger senior Kathy Mathis finished first in the girls' shot put with a career best throw of 28' 9 1/2". Mathis is the defending regional champion in the shot put.

Here is a recap of how the scoring went for Clay County: A pair of sixth graders, Susan Henson and Jordan Phillips, finished fourth and sixth in the 100 meter dash; Henson also placed sixth in the 200 meter dash. Kayla Swafford was third in the 800 meter dash; sixth graders Keasha Mathis and Brittany Collins placed fourth and fifth in the 3200 meter run. Freshman Katie Smallwood was fourth in the 100 meter hurdles and fifth in the 300 meter hurdles.

Clay 4x100 meter relay team (Arbanna Gibson, Tara Wright, Jordan Phillips and Susan Henson) finished sixth. Clay County's Tara Wright, Jordan Phillips, Arbanna Gibson and Susan Henson combined to run sixth in the 4x200 meter relay. Gibson, Wright, Swafford and Phillips ran second in the 4x400 meter relay. In the girls' 4x800 meter relay team, Tara Wright, Arbanna Gibson, Kayla Swafford and Susan Henson placed fourth. Jenna Wilson and Katie Smallwood were third and fourth, respectively, in the high jump. Karrie Angel, a 6th grader, placed sixth in the long jump. Mathis finished fourth in the discus throw with eight-grader Erin Collins taking sixth.

The Tigers' Adam Reid just missed scoring, placing seventh in the boys 800 meter run. Dwight Scalf placed seventh in the 3200 meter run and Justin Hollen was seventh in the discus throw. OBI's Angela Stine finished sixth in the girls' 1600 meter run. Scoring points for the OBI boys' squad were Robert Kuhn (sixth in the 200 meter dash), Scott Aylesworth (fifth in the 1600 meter run) and the 4x100 meter relay team (Michael Asheber, Robert Kuhn, Tim McCarthy and Sam Lawson) placed fourth.