CCHS
Track
2003
Home Page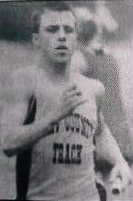 Adam Reid enters his senior season with the Tiger track team.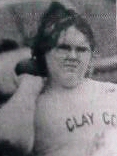 CCHS senior shot putter Kathy Mathis hopes to make a repeat appearance in the State Championships later this spring.
Manchester Enterprise - Thursday, April 3, 2003 - Page C1
---
Lady Tigers looking for big season
Boys team in rebuilding year with lots of youth


Charles Doll is in his 15th year as head coach of the Clay County Girls' Track and Field Team. His squad numbers 28 athletes and most are underclassmen. Kathy Mathis and Amanda Campbell are the only returning seniors. Four athletes return with hopes of earning a repeat spot in the State Track and Field Championships. Mathis (Shot Put), along with Tara Wright (Relay), Arbanna Gibson (Relay) and Kayla Swafford (Relay) competed in last years state meet in Lexington.

Big things are also expected from freshman Jenna Wilson, who set the school triple jump record (29'7") last season and just missed making the state championships. She also competes in the high jump as well as two running events. "The team looks pretty good so far," said Doll. "We have some really nice athletes and should have a competitive squad this season." he added.

"But we surely miss hurdler Tosha Grubb and long distance runner Sonya Asher who graduated last year as well as Samantha (Hensley)," he said. Hensley became ill last season and missed most of the year. She is a home bound student this school year. "Samantha was really showing a lot of improvement last season before she became ill." he said.

Sprinter Susan Henson, a sixth grader, will excite the crowds this spring. An exceptional talent, Henson was named to the All-SEKC Cross-Country team in the fall along with Kayla Swafford. Katie Smallwood (hurdles and the long jump) and fellow freshman Lisa Parsley are expected to show improvement this season. Latasha Lawson, a middle school student, will compete in the shot put and also compete in running events. Kesha Mathis and Brittany Collins, a pair of sixth graders, will be long distance runners.

Sixth graders, Jordan Phillips and Telisha "T.T." Copeland will also be learning the ropes. Copeland along with Henson are expected to compete in the pole vault. Clay hasn't had anyone compete in the pole vault since Felicia Cupp's school record performance of seven-feet in 2001.


TIGER OUTLOOK
Seniors Adam Reid, Drew Couch and Justin Hollen headline an inexperienced 2003 Clay County Boys' Track and Field Team. Reid has improved each year and could be one of the areas top competitors in both the 800 meter run and 400 meter dash. He most likely will run the anchor leg on the squads 3200 and 1600 meter relay teams. Couch will compete in the 1600 meter run and the 400 meter dash. Henson returns after missing last season due to surgery to repair a hernia.

Seven members of Coach Denver Word's 14 man squad come from the grade school and middle school ranks. One and two-miler Dwight Scalf is the team's lone sophomore. Freshman Darrin Mathis (Field events), Robbie Tomlin and Phillip Thompson (hurdles and sprints) are the only other high school athletes on the squad. We're gonna be young and are definitely in a rebuilding year," said Word. "I expect our seniors to be very competitive but we just don't have the numbers to compete on a team level this spring," he said.