Lady Tiger
Basketball
2003-2004
Lady Tiger Home Page
Photo Album
Previous Week
Next Week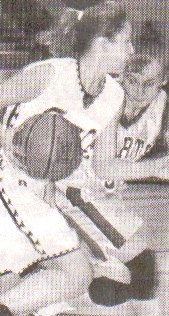 Stephanie Jackson drives
to the basket during
the JV game.





Manchester Enterprise - Thursday, December 18, 2003
---
Clay hands Evarts 1st loss
Clay County got another solid outing from sophomore guard Jayme Gilbert and the young Lady Tigers went on to post a 65-26 win over previously unbeaten Evarts Friday at Keith Gym. The Lady Tigers shots appeared as though they were "locked on" to the target by evidence of 57% shooting from two point range.

Gilbert scored 17 of her game best 21 points in the first half as Clay led 37-14 at intermission. She didn't see any action in the final period. The three year starter connected on nine of 12 shots, including her only three point attempt. She also grabbed 11 rebounds and dished out nine assists, just missing a rare triple double.

Junior guard Kari Ealy nailed two threes and scored six of her 11 points after the break. Freshman Maleah Roberts scored eight of her 10 points in the second half, making four of seven shots. Jenna Wilson and Page Jackson scored five points each; Kelly Jones had four; Stephanie Jackson, three; Amanda House, Holly Hoskins and Sarah Burchell two apiece. Jones and Jackson each grabbed four rebounds.

Four the game Clay County made 20 of 35 two point field goal tries (57%) and seven of 18 three pointers (39%). The Lady Tigers were held to just seven of 43 shooting (20%) and committed 20 turnovers. Clay won the battle of the boards 38-27 but did commit 15 turnovers.

"The girls are playing awfully good right now," said Clay County Coach Donnie Gray, "Our defense was good and we shot the ball extremely well in the first half," he said. "The girls are listening very good right now. To be so young they are really starting to grasp what we were asking of them."

In the JV game, Gemma Gray scored 11 points and Meleah Roberts had 10 in Clay's 61-23 victory. Bethani Herron and Mariah Aubery each scored six; Stephanie Jackson and Sarah Burchell each had five; Holly Hoskins and Amanda House four each; Sasha Lyttle and Brittany Combs two apiece.