Lady Tiger
Basketball
2003-2004
Lady Tiger Home Page
Photo Album
Previous Week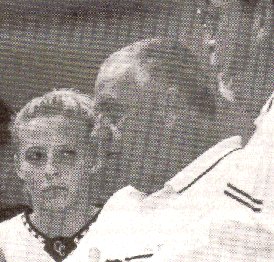 (L-R): Kari Ealy, Coach Donnie Gray & Coach Dick Woods chat during a timeout.
Manchester Enterprise - Thursday, March 11, 2004
---
Clay within striking distance until late Rockcastle run
Lady Tiger rally falls short
Clay County's season came to a close after a 60-46 loss to No. 4 Rockcastle County in the first round of the 49th District Tournament Wednesday at Oneida Baptist.

Rockcastle had beat Clay in two previous meetings by an average of 27 points but this game was a much closer game than the final tally indicates. The Lady Rockets encoutered an inspired group of youngsters who refused to give in.

"I was tickled to death with the way we played," said Clay County Coach Donnie Gray. "We played hard. The girls did exactly what we asked them to do. Yeah, we made some mistakes but you're going to make some mistakes," he said.

Sophomore Jayme Gilbert, who was not a hundred percent healthy, tried to keep Clay close, scoring 12 of her game-best 19 points in the first half. Trailing by nine with just over a minute left in the third period, Clay rallied to within 40-37 on a put back at the buzzer by freshman Maleah Roberts.

The 7-0 run began with a three-pointer by eighth grader Gemma Gray with 1:Ol to play. It appeared Rockcastle would hold for the final shot but Clay forced a turnover and Gray scored again with 0:09 left.

Rock then threw the in bounds pass away at 0:05 setting up Roberts' rebound basket. In the fourth, Rockcastle stepped up their pressure and all-state candidate Johnna Abney made a steal and a lay up. She picked off anotherpass and was fouled going to the basket. She made one of two for a 43-37 lead.

Gilbert then scored inside for Clay and was fouled. Her free throw rimmed out and Clay (16-10) got no Closer. "I told the girls that we need to build on this effort," said Gray. "We showed Rockcastle that we could play with them. We played hard for 32-minutes under some extreme conditions (Gilbert's ill-ness).

Roberts finished with eight points; Karl Ealy had six, on two threes in the third; Kelly Jones and Gray each added five points; Stephanie Jackson scored two and Jenna Wilson one.

Clay's lone senior, Monica Bowling, got into early foul trouble and did not score. "I feel bad for Monica because she won't be with us anymore. She has been a tremendous leader on this basketball team. She plays awfully hard. She's not a great offensive threat but if a loose ball goes on the floor she's going to be in there fighting for it," said Gray.

Abney led Rockcastle (26-3) with 18; Tara Rowe had 17; Lauren Clontz 10; Heather Hammond nine and Katie Parsons six. After Friday's championship game, in which Rockcastle downed Jackson County 64-56, Clay's Gilbert and Roberts were named to the all-tournament team.