Lady Tiger
Basketball
2003-2004
Lady Tiger Home Page
Photo Album
Previous Week
Next Week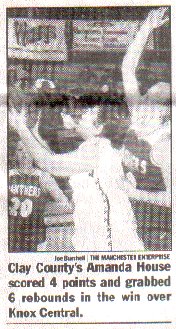 Manchester Enterprise - Thursday, February 5, 2004
---
Sophomore scores 27 in 38-35 win
Gilbert leads Clay past Corbin
Clay County point guard Jayme "Skooly" Gilbert was dominant in her team's 38-35 victory at Corbin Monday. The 5-7 sophomore scored 18 of her game best 27 points in the first half as the Lady Tigers ended the Lady Redhounds five game winning streak. Her three point basket at the third quarter buzzer gave Clay their largest lead (36-27) and proved to be the winning basket.

Junior guard Kari Ealy nailed two three pointers on the night, the first of which tied the game at 8-8 midway through the first period. Her second trey pushed Clay ahead for good at 28-25 early in the third period. Corbin had a chance to tie with a three-pointer in the final seconds but couldn't connect.

Gilbert made 10 of 15 shots, including two of two from three point range. She also grabbed six rebounds and handed out three assists. Kelly Jones and Jenna Wilson each scored two points; Page Jackson added one point. Ealy and Jackson each had three assists. Jones and Wilson had four and three rebounds, respectively.

Corbin won the battle of the boards 26-18. Morgan Barley led Corbin (13-6) with 17; Katie Akins added six. The game was played at the old Corbin High School gym because of heating problems at Gilliam Gym.


Clay tops Central
Clay County (13-6) outscored visiting Knox Central 21-1 and went on to earn a 55-41 victory, Friday at Bobby Keith Gym. Sophomore point guard Jayme "Skooly" Gilbert led the way with 23 points, 14 rebounds, seven assists and five steals.

Page Jackson finished with nine points, all coming in the opening period. Maleah Roberts and Amanda House each tossed in six points; Stephanie Jackson added five; Kari Ealy three; Monica Bowling two and Jenna Wilson two. House and Ealy grabbed six and five rebounds, respectively.

Jennifer Bargo led the Lady Panthers with 11.