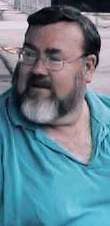 Joe Burchell
Sports Editor


Joe Burchell, Sports Editor
Congrats to Skooly


Scoring on a one handed twisting lay up between to defenders, Clay County sophomore Jayme "Skooly" Gilbert reached the 1000 point club Monday in the Lady Tigers victory at Whitley County. She has 1,001 points and is on target to become the Lady Tigers all time leading scorer.

Kim Jones (1984-89) holds the CCHS girls record with 2,004 points. Regina "Saffey" Hipsher, Gilbert's elementary coach, sends congratulations to her former player. Hipsher ('76-'79), is 10th on the all-time scoring list with 1,171 points.

Also a big congratulations from "Skooly's" parents, Jamie and Melanie Gilbert, and her sister Amanda. By the way, Amanda Gilbert, who graduated last season, is No. 7 on the scoring list with 1,291 points.