Lady Tiger
Basketball
2002-2003
Lady Tiger Home Page
---
---
Shiloh Roadhouse
"Player of the Week"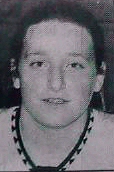 Jayme Gilbert scored 21 points and had 11 rebounds in a loss to Woodford County Saturday in the finals of the Berea Classic.
---
---
Manchester Enterprise - Thursday, December 26, 2002 - Page A3
---
Clay falls to No. 12 Jackets
Lady Tigers drop a 58-50 decision
to Woodford in Berea Classic Finals


No. 12 Woodford County (8-1) scored six straight points in the final 90 seconds of the first half after a 28-28 tie to take a 34-28 half time lead over Clay County in the championship game of the Berea Holiday "A" Classic Saturday morning. The Lady Indians came out red-hot in the third period and increased their lead to 52-38 before fending off a late Lady Tiger rally to post a 58-50 win.

Woodford hit five three-pointers in the first half and finished with nine three's for the game. Destiny Mattingly proved to be the main thorn in the side of Clay County, scoring 17 of her game high 23 points in the first half.

Clay led 14-11 early in the second period, but Woodford fought back to lead 24-20. However; after Amanda Gilbert scored her 12th point of the first half with 2:14 on the clock, Clay was up 27-26. But, shortly after, Priscilla Wagers picked up her third foul and left the game.

Jayme Gilbert helped keep Clay close with 10 points and seven rebounds at intermission. She finished the game with a team high 21 points and also had 11 rebounds: Amanda Gilbert added 16 points and team high 12 rebounds: Wagers had six points; Monica Bowling scored three; Paige Jackson and Maleah Roberts added two points each.

The loss was the first in nine games for Coach Donnie Gray's team. "I was pleased with out play," said Coach Donnie Gray. "Hey, we lost to a very good basketball team... this is a good tournament for us," he added.

Next up, a trip to northern Kentucky right after Christmas to play in the Ballin' at Ryle (High School) Challenge (versus Campbell County Thursday), Friday and Saturday. "We have a tough game right off the bat," said Gray. "Campbell County is 8-2 and they can play... we'll have to be ready for a battle." The team will leave for the tournament early Thursday morning.


Friday's semifinal game
Lady Tigers 42 - Montgomery County 34


Clay County jumped to a 6-0 lead while holding the Lady Indian's scoreless for more than four minutes en route to a 8-4 first period lead. Montgomery County closed to within 8-6 with 6:26 left in the second period, but Clay ut together a 9-2 run to lead 17-8. Clay led 21-13 at intermission behind Amanda Gilbert's 11 points.

The Lady Tigers built their largest lead at 37-24 with 5:51 remaining in the game after a basket by Maleah Roberts, then held on for their eighth win in as many games. Jayme Gilbert led Clay with 16 points; Amanda Gilbert finished with 15; Kari Ealy, who turned in a terrific third period, scored five points. Ealy scored five straight points after Montgomery had pulled to within 24-19. Priscilla Wagers, Amanda House and Roberts scored two points each.


Thursday's quarterfinals
Lady Tigers - Lexington Tates Creek (Canceled)


Tates Creek (5-0) had beaten Lincoln County 43-34 in the first round game. However; the Lady Commodores canceled their game with Clay County due to a tragedy involving a team member.


Tuesday's first round
Lady Tigers 52 - Mason County 46


Clay County (6-0) built a 12 point (26-14) lead midway through the second quarter but saw Mason County (3-3) pull even (28-28) early in the third period before prevailing 52-46. Both teams played well in spurts, with Clay getting the upper had early after a 8-0 run to lead 13-5. Jayme "Skooly" Gilbert had the hot hand early, scoring nine of Clay's first 26 points.

After Mason tied the game with 5:10 remaining in the third period, Priscila Wagers nailed the first of her two three-pointers in the quarter. Clay pulled ahead 41-30 after "Skooly" and her sister Amanda combined for seven points. Mason closed to within 47-44 with 2:40 remaining in the game but got no closer. "Skooly" led the Lady Tigers with 20 points; Wagers and Amanda Gilbert added 14 and 11 points, respectively. Kari Ealy scored three; Jenna Wilson and Paige Jackson had two points each.

NOTE: Amanda Gilbert needed just four points in the game with Mason County to give her 1000 points in her high school career. After scoring three points in the first period, Gilbert picked up points 1000 and 1001 after a basket with 6:57 remaining in the second quarter.