Lady Tiger
Basketball
2002-2003
Lady Tiger Home Page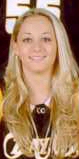 Amanda Gilbert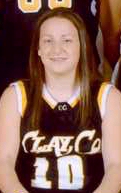 Jayme Gilbert







Manchester Enterprise - Thursday, December 19, 2002 - Page C1
---
Clay Wins at Evarts 40-32
The Clay County Lady Tigers ran their record to 5-0 with a 40-32 win over a scrappy Evarts team Friday night. With the score tied at 5-5 Clay went on a 11-2 run and a 16-7 lead but the host Lady Wildcats countered with seven straight points to pull within 16-14 early in the second period. Jayme "Skooly" Gilbert had the hot hand early for Coach Donnie Gray's ball club, scoring nine points in the first period.

The second period was over quick, with Clay getting just one basket each from "Skooly" and Kelly Jones for a 20-14 halftime lead. After a basket by Whitney Reynolds pulled Evarts to within 20-16 to open the third period. Clay ran off 10 unanswered points for a 30-16 lead. Six of the 10 points came from senior Amanda Gilbert; senior Priscilla Wagers had four and Kari Ealy two. Evarts fought back to within 38-32 with 1:21 to play but got no closer.

Amanda Gilbert led the way with 12 points; her younger sister Jayme finished with 11; Ealy added seven; Wagers scored six; Monica Bowling and Jones had two points each. Reynolds led Evarts with 10.

NOTE: Evarts upset No. 15 Cawood in overtime Monday night.


Lady Tigers 62 - Knox Central 31

Clay County scored the games first 12 points and cruised to the win in the home opener Thursday. Amanda Gilbert scored 13 first-half points and the Lady Tigers posted a 31-13 halftime lead. Eleven players scored for the Lady Tigers, who were led by Amanda Gilbert with 19 points and eight rebounds. Jayme Gilbert added 11 points, six rebounds and five assists; Priscilla Wagers tossed in 10 points, grabbed six rebounds and had three steals. Monica Bowling added five points and five rebounds; Paige Jackson scored four, Kari Ealy, three; Kelly Jones, Jenna Wilson, Amanda House and Maleah Roberts had two points each. House and Wilson added five rebounds each. Wilson also had three assists. Sunnie Brock and Jennifer Bargo led the Lady Panthers with 10 points each.

At intermission several CCHS students "cashed in" after participating in the halftime challenge. John Ed Brown collected $10 for making a shot in the paint but just missed an extra $15 on his free throw attempt. Chris Collopy nailed a three-pointer for a $25 payoff and James Walsch nailed a shot from mid-court worth $50. The "halftime challenge" is sponsored by First National Bank.