Lady Tiger
Basketball
2002-2003
Lady Tiger Home Page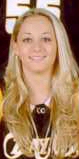 Amanda Gilbert




Priscilla Wagers

Manchester Enterprise - Thursday, December 12, 2002 - Page C2
---
Clay County improves to 3-0
after 76-35 win at Middlesboro
Seniors Amanda Gilbert and Priscilla Wagers
team up to lead squads offensive punch


Clay County improved to 3-0 with a convincing 76-35 win a Middlesboro Monday night. With the scored tied at 5-5, Clay went on a 14-0 run and never looked back. Senior Priscilla Wagers scored the Lady Tigers first seven points and senior Amanda Gilbert scored eight of the next 12 points. Clay put together a 9-0 run in the second period when Monica Bowling nailed a three pointer and Kari Ealy followed with two more treys.

Amanda Gilbert led the team in scoring with 18 points, 14 rebounds and eight steals. She made 8 of 10 shots. Wagers finished with 17 points and six rebounds; Jayme Gilbert added 13 points and four steals and five assists. Ealy scored nine points; Bowling had six points, four rebounds, four steals and three assists; Maleah Roberts tossed in five; Jenna Wilson, Paige Jackson, Amanda House and DeRonna Moore each had two points.

Clay's 6'1" sophomore Kelly Jones did not play due to an illness.


Friday's results
Lady Tigers 72 - Williamsburg 13


Coach Donnie Gray sat on the sidelines and watched intently as his Lady Tigers (2-0) open their game with Williamsburg by scoring 34 straight points en route to a 72-13 win a Barbourville. Priscilla Wagers scored seven of the games first nine points before leaving for a breather. She would finish with a team high 16 points. Amanda Gilbert scored all 12 of her points before the Lady Jackets scored with 4:45 remaining before halftime.

Monica Bowling scored eight points; Jayme Gilbert added seven; Amanda House and Kayla Dezarn (eight rebounds) scored six points apiece; Kari Ealy had five; Kelly Jones (four steals) and DeRonna Moore each scored four points; Jenna Wilson and Mariah Aubrey added two each. Wilson led the team with 10 rebounds and three assists.


Thursday's results
Lady Tigers 55 - Barbourville 37


Clay County struggled early but eventually got their act together and cruised to a 55-37 decision at Barbourville. Trailing 11-8, the Lady Tigers went on a 9-0 run to lead 17-11 and held that margin at halftime with a 23-17 score. Seniors Amanda Gilbert and Priscilla Wagers scored 13 and eight points in the first half. Wagers scored the first eight points of the third quarter before picking up her third foul, giving Clay a 31-17 lead.

Amanda Gilbert made 10 of 12 field goal attempts and finished with 23 points and seven rebounds. Wagers added 20 points on the night. Jayme "Skooly" Gilbert scored six points; Monica Bowling had three; Amanda House scored two and Paige Jackson added one point. Jenna Wilson had six rebounds. Monica Mills and Heather Ball scored 16 and 12 points, respectively, for the home team.