Lady Tiger
Basketball
2002-2003
Lady Tiger Home Page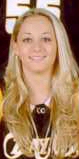 Amanda Gilbert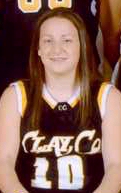 Jayme Gilbert

Manchester Enterprise - Thursday, November 21, 2002 - Page C1
---
Clay tops Corbin 65-40
in SEKC Pan-O-Rama
Gilbert sisters combine for 37 points
16 rebounds in 1st test of the season


Clay County Coach Donnie Gray got his first official look at how the 2002-03 Lady Tigers were progressing this pre-season when they played host to Corbin in Monday's Southeastern Kentucky Conference Pan-O-Rama. Gray saw his team score the games first 18 points enroute to a 64-40 win. Everyone on the team saw action with the exception of senior Priscilla Wagers who sat out the game due to an illness.

Wagers, projected to be a starter at one of the guard spots, is to see her physician Thursday and hopes to be released to join the team soon. The Lady Tigers were led Monday night by the only returning starters from last years 24-8 team, sisters Amanda Gilbert and Jayme "Skooly" Gilbert.

Amanda, a senior forward, scored 23 points and pulled down eight rebounds. Jayme, a freshman guard, added 14 points, eight rebounds, five steals and also dished out five assists. Freshman Jenna Wilson and eight grader Paige Jackson scored seven points apiece; sophomores Kari Ealy and Kelly Jones each scored four points; eighth grader Maleah Roberts had three points; Freshman Amanda House scored two points and DeRonna Moore, a sophomore, had one point.