Lady Tiger
Basketball
2002-2003
Lady Tiger Home Page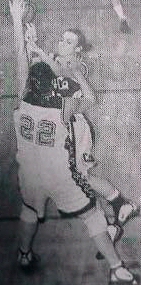 Jenna Wilson attempts to pass to a teammate.

---
---
Shiloh Roadhouse
"Player of the Week"

Amanda Gilbert scored 15 points in the Lady Tigers loss to Rockcastle County. Gilbert finished her career with 1,291 points.
---
---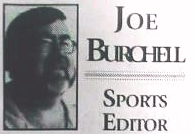 ---
---
49th District
All-Tournament Team

Amanda Gilbert
Clay County

Amaerica McKinney
Oneida Baptist

Ashley Jordan
Oneida Baptist

Brittany Bingham
Jackson County

Deanna Roaden
Jackson County

Heather Hammond
Rockcastle County

Jayme Gilbert
Clay County

Jeneanna Hignite
Jackson County

Jessie Hayes
Rockcastle County

Johnna Abney
Rockcastle County

Sarah Elliott
Jackson County

Whitney Moore
Jackson County


Manchester Enterprise - Thursday, March 13, 2003 - Page A6
---
49th District Tournament
Lady Tigers fall to Rockcastle
Clay Co. rallies late but
fall short in 59-45 loss


Back on January 3rd, visiting Clay County rallied from 14 down in the fourth quarter to knock off Rockcastle County in overtime. For a moment in Tuesday's 49th District Tournament game at Mount Vernon, it looked like history might repeat itself.

Trailing 13 points in the third period, Clay County fought back to close within 38-35 of host Rockcastle County early in the fourth quarter but ran out of steam and dropped a 59-45 decision in the first round of the 49th District Tournament last Tuesday.

The game was close early, and tied at 15-15 with 7:01 to play before half time but the Lady Rockets pushed ahead 28-19 at the break. Rockcastle's Heather Hammond scored 10 points in the first half and Johnna Abney added five. Kari Ealy and Amanda Gilbert led Clay with six points apiece at the break. All of Ealy's points came in the first period.

Clay fell behind 38-25 midway through the third period but scored the last eight points of the period to pull within 38-33. When Jayme "Skooly" Gilbert scored on a drive to the basket with 7:44 to play, Clay seemed to have the momentum. However, the Lady Rockets countered with a three-pointer from Abney and two more treys from Jessie Hayes to get some breathing room. Rockcastle made 10 foul shots down the stretch and pulled away for the victory.

Hammond led the winners (24-5) with 15 points; Abney finished with 14 and Hayes added 13. Clay County was led in scoring by their two seniors, Amanda Gilbert and Priscilla Wagers, with 15 and 13 points, respectively. Jayme Gilbert scored 10 and Ealy finished with six; Jenna Wilson, one.

The loss marks the first time the Lady Tigers (19-8) will not make the field in the upcoming 13th Regional Tournament.

NOTE: Rockcastle County lost to Jackson County 66-61 in Thursday's championship game despite leading 34-23 in the first half. Sarah Elliott (6'6" junior) led the winners with 31 points despite sitting out six minutes due to early foul trouble.

---
My Two Cents
Clay bows out of tourneys
Clay County student body
provides best support ever
BY: Joe Burchell, Sports Editor:

I know Clay County basketball fans are disappointed with the early exit from post season. Having a school with the tradition such as we do at CCHS we should be disappointed, but the disappointment shouldn't linger. Perhaps we have taken our tradition for granted lately.

To show you how great Clay County's tradition is at tournament time, this was the first time in school history the Lady Tigers didn't advance to the regional. No teams have dominated a region like the Tigers and Lady Tigers. One can dwell on the recent setback but we should be thankful for our long tradition and the Lady Tigers 19-9 record in a rebuilding year.

This is just the third time in the last 50-plus seasons that the Tigers haven't advanced past the first round of the regional tournament. The Tigers didn't make it to the region in 1977 and you would have to go back to 1970 to find a Tiger team that lost a first round game in the regional tournament. Then you would have to go back to the 1940's to find a Tiger squad that failed to earn a spot in the regional semifinals.

While we lick our wounds, let's remember that we have had more than our fair share of success and tip our hats to the schools that "live" to knock off our teams. The get ready for war next season. One more thought, about the "being thankful" part. That feeling might get us this time but in the future players coming into high school aren't developed into better ball handlers to withstand pressure defenses, this recent spiral might get out of control.



Kudos to the fans



I watch my very first Clay County Tiger basketball game in 1964 and have since seen games to numerous to name. Clay County fans were second to none when it came to supporting their team and had a "packed house" most every night at the old Tiger Den. It's obvious that the following has diminished over the last dozen years or so with the majority of support coming from the "older" variety.

With that said, I send kudos to the CCHS student body who showed up in record numbers in the district and regional tournaments to cheer on their fellow classmates. Never have I seen the student body support the Tiger team like they did in the finals of the 49th District Tournament against Rockcastle County.

The Tiger players were on hand to cheer on the girls' team and visa versa. Youngsters sporting golden hair, painted faces, and even body paint. They were screaming and cheering in unison with the exciting sounds from the schools pep band. Wow, what a pleasure it was to see the youngsters having a great time and displaying such terrific school spirit.

And by the way, Clay County has the best pep band around. And the Tiger cheerleaders were tops as well (receiving first place in the district tourney competition.) Clay County's teams didn't fare well in tournament play but the student body shined.