Lady Tiger
Basketball
2002-2003
Lady Tiger Home Page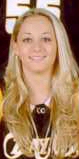 Amanda Gilbert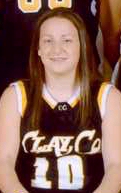 Jayme Gilbert

Manchester Enterprise - Thursday, February 13, 2002 - Page C3
---
Gilbert sisters shine in
Clay's victory at North
Combine for 48 pts. and
18 rebounds in 59-48 win


With senior Priscilla Wagers (strep) and 6-1 sophomore Kelly Jones (broken hand) out of the lineup, Clay County Coach Donnie Gray knew somebody had to "step up" if the Lady Tigers were to win on the road at North Laurel Thursday. Gray's entire team stepped up in their 59-48 come-from-behind win, but none more than sister's Amanda and Jayme Gilbert.

Clay jumped to a 10-2 lead but the Lady Jaguars aided by Amber "Buck" Dufour's 12 points went up 30-27 at halftime. The Gilbert's combined for 18 of the 27 points at intermission. North increased their lead to 36-31 with 4:30 remaining in the third period. Following the time-out, Clay held North scoreless for nearly six minutes while reeling off 14 unanswered points to go up 45-36 with 6:50 left in the game.

Amanda Gilbert scored 10 of the 14, including a rate three-point basket that broke a 36-36 tie. Amanda finished with 28 points on 10 of 13 shooting, including one of one from three point range, made all seven of her foul shots, added nine rebounds, four steals and three assists. Jayme scored 20 points on eight of 10 shots, added nine rebounds, five steals and seven assists.

Clay (15-4) made 20 of 27 two-point tries (73%) and two of three three-point attempts (66.6%). Monica Bowling scored five, Jenna Wilson, Meliah Roberts and Paige Jackson had two each. Dufour led the Lady Jag's (9-8) with 20 points; Sarah Hughes added 12 and former Lady Tiger Whitney Sumner finished with seven.